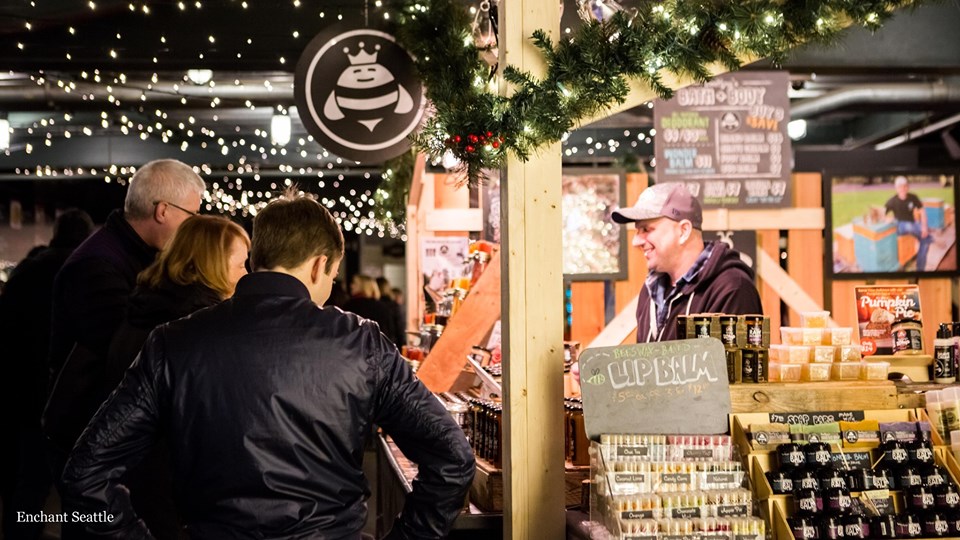 First Things First
Be sure to join the Facebook event, and share it widely with your business and personal networks on all your social media channels! We'll be boosting the event as the show gets closer, but the more people we have 'interested' and 'going' before that happens, the bigger the crowds!
when and where
Open: Monday – Thursday 4 PM – 10PM; Friday – Sunday 4 PM – 11PM
Special Holiday Hours: December 13 – 29 (4 PM – 11PM)
Closed: Nov 25-28, Dec 2 & 9
T-Mobile Park (1250 1st Ave S, Seattle, WA 98134)
VENDING INFORMATION
While this event is not an outdoor event, it is cold, so come bundled.  It is easier to take layers off than to be ill-prepared 🙂
Included for Enchant Vendors:
• Modular and Flexible Design – Enchant will build wooden hut style booths for Vendors
• Electrical Supply Provided (up to 20 AMPS)
• Enchant Provided Exterior Booth Decor
• Vehicle loading/unloading on specific Load In/Out Dates
• Parking Passes and Event Access Credentials
• 24 Hour On-Site Security
• Vendor Profile on the Enchant Website/Enchant Provided Social Media Content
• 9-12k guests per night on weekends throughout the run.
• 4k-8k guests per night on weekdays before Dec 15
•  7k-14k guests per night on weekdays after Dec 15
INFORMATION ABOUT LOAD-IN AND OTHER POLICIES AND PROCEDURES COMING SOON!