every first thursday, ap
ril through octobeR
OCCIDENTAL PARK
11am – 8pm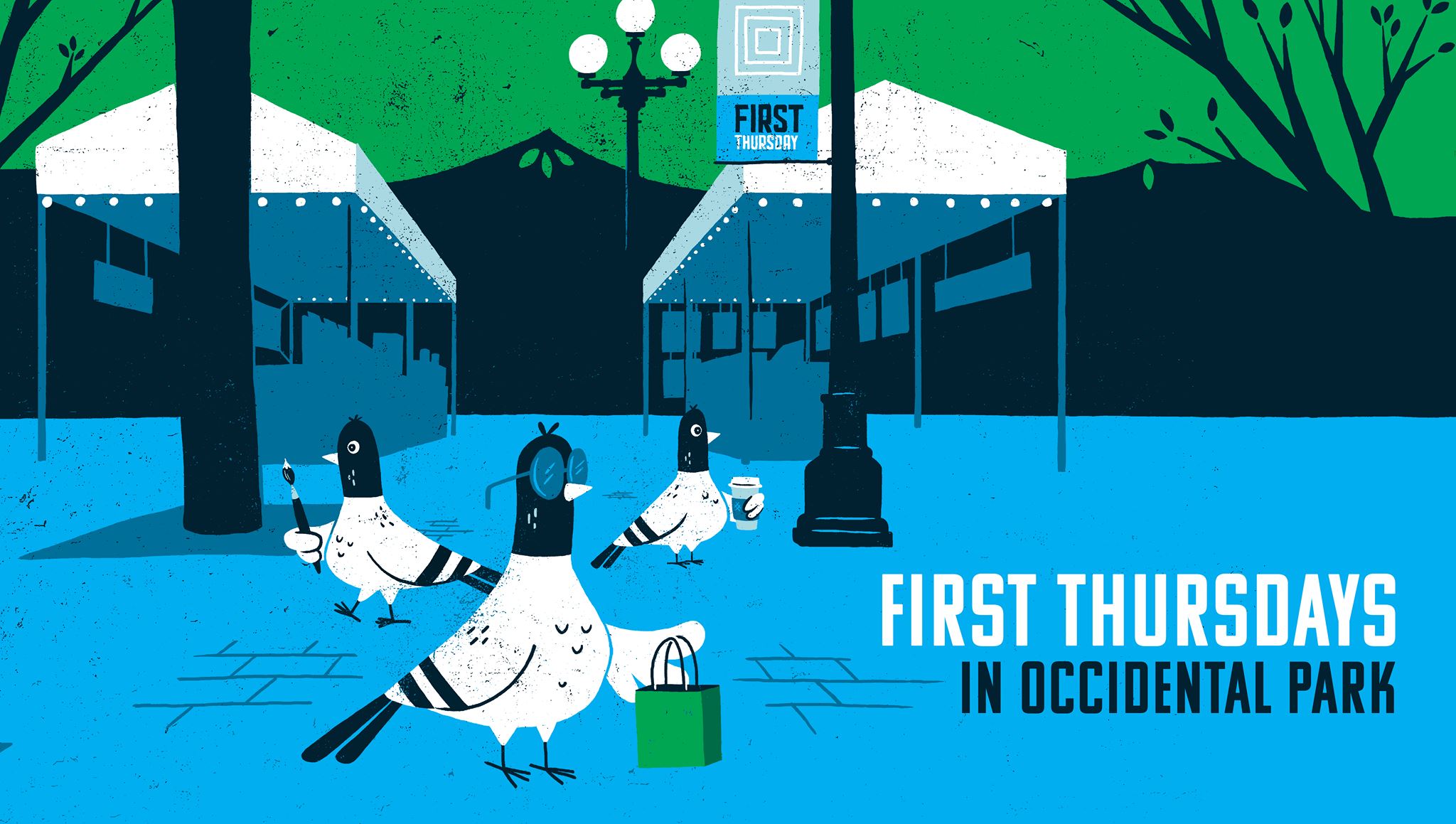 This spring will be our fifth year partnering up with the Downtown Seattle Association to bring First Thursday activities to Occidental Park. There have been many iterations of it over the decades and we are so honored to be a part of its resurgence. As this area grows, so does this event and we are excited to bring a new element to it this year!
Pioneer Square is definitely seeing a revitalization with awesome new restaurants, great shops and galleries and many new businesses moving in (Weyerhauser, Expedia, etc.) As many of you also know, the cruise ships start coming in May, which is when tourism really starts picking up — not to mention SIFF, the Seattle Art Fair, all the conventions at the Convention Center, PAX and of course all the people who live in the area who enjoy attending First Thursday to get their awesome dose of culture.
We invite you to come shop with 55 of some of the most talented local makers in the Seattle area, who will be setting up shop here in Occidental Park every First Thursday, from 11am-8pm.
I thought this show was handled really well. I loved that there was always support staff around. I had never done a show in Seattle before so I wasn't sure what to expect or how to maneuver around the city so I brought my husband with me. Once my husband and I figured it all out we became more relaxed and were able to enjoy the day. I really love Seattle. It has a lot of good energy. I had two other people ask me about doing other shows in Seattle and I had more orders after the show. My main goal for doing these events is branding and visibility so I would say it was very successful.
Applications are currently open
Deadline to apply is SIX WEEKS before each show date.
april show

Thursday, April 2nd

MAY SHOW

Thursday, May 7th

june show

Thursday, June 4th

july show

Thursday, July 2nd

august SHOW

Thursday, August 6th

september SHOW

Thursday, September 3rd

october show

Thursday, October 1st