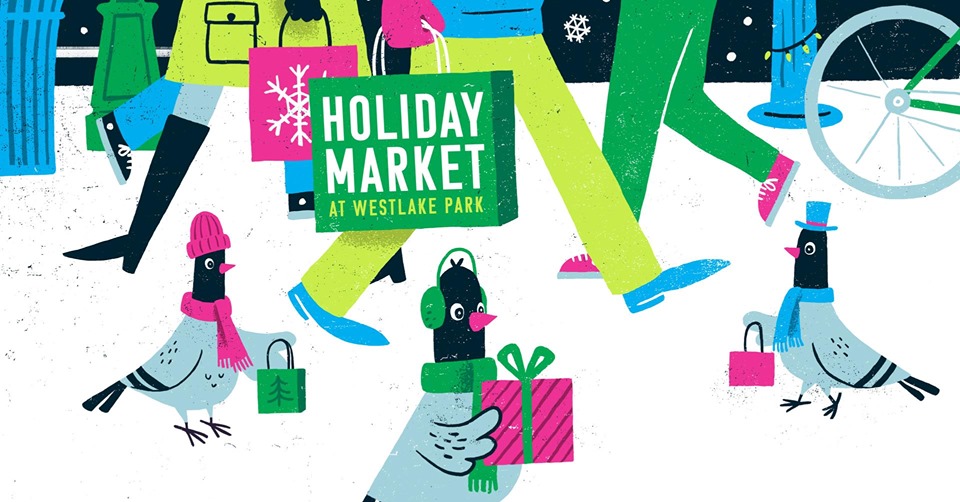 First Things First
Show Location: 401 Pine St., Seattle
Show Hours: 12:00 p.m. – 7:00 p.m. Fridays & Saturdays, 12:00 p.m. – 5:00 p.m. Sundays
Be sure to join the Facebook events, and tell all your friends and customers to do the same! We've created separate events for each of the 4 weeks so that we can list all of you there for the respective weeks that you're vending without any confusion, but please do share any of the other weeks that you're not vending as well, just to help drum up some Facebook hype and get others to see them!
GENERAL INFORMATION
Booth Fee: $275/weekend
Option to vend for up to 4 of the following weekends: November 29-December 1, December 6-8, December 13-15, December 20-22
24/7 security (but it is up to your own discretion whether you leave your product overnight)
Estimated attendance of 150,000 holiday shoppers over the course of the 5 weeks
Premier downtown location across from Westlake Center, prime outdoor exposure during the holidays
Your booth will be inside of a tent structure with clear sides, and with the ability to open the sidewalls between vendor booths if you and your neighbors choose to do so!
about the booths
Vendor is to provide their own signage to be displayed inside the booth or free-standing outside of the booth. We will not be attaching individual vendor signage to the kiosks in order to maintain consistency. Vendors are encouraged to bring their own signage and banners to hang at the booth.
Each tent is 10'x20′, which means that TWO vendors will be in each structure, occupying their own 10'x10′ space. We'll be publishing the booth maps soon, and once we do we highly suggest you introduce yourselves to one another before vending and perhaps discuss your respective setups, so that you can plan accordingly.
The tents have clear windows on three sides and only the back will be all white. The sides will have the option of being rolled up, so if you prefer to have that exposure and the weather is complying, you're welcome to open up any sidewalls as you see fit.
String lights will be provided. Please bring your own battery-powered lights for any additional lighting you'd like.
Generators are only allowed on a case-by-case basis; you must let us know if you plan on using one, and we cannot guarantee approval for this.
electricity/heaters
There are small heaters provided by the DSA, which will be placed outside of the tents. You are NOT to move these heaters AT ALL.  They are to remain where originally placed, both in order to be fair to vendors, and to prevent fires.
All vendors will receive a standard outlet to use, and all vendors will be responsible for their power usage if a breaker is blown. Power is mainly for charging phones and extra lights.
load-in/load-out
WEEK 2 VENDORS: Please see the information below regarding the Jingle Bell Run on Sunday 12/8.
Load-in will be from 8:00 a.m. to 12:00 p.m. each Friday
Load-out will be from 5:00 p.m. to 7:00 p.m. each Sunday
The load-in zone is in front of Sephora, on Pine St. as well as on Pike St.
Please keep in mind that there is no parking in the park. If a vendor must pull into the park to unload their equipment it must be quickly unloaded and the car removed from the park before the setup of the display can begin. All vendors are responsible for any oil leaks on the pavers in the park if they do bring a vehicle into the park.
Parking suggestions, visit www.downtownseattleparking.com.  Bed Bath & Beyond has $7 ALL day parking on Sat and Sun only. Most vendors last year found parking across the street at mall. There is also FREE parking at several Amazon buildings on Saturday and Sunday. If you don't mind a short walk, you can find the closest on 6th street between Lenora and Blanchard OR on Lenora between 6th and 7th.
All vendors are required to be open every day, for the full hours of 12pm-7pm (5pm on Sundays). No booths will be allowed to open late, or close early, on any day, for any reason. Please plan your staffing accordingly!
You may choose to leave your goods overnight or take them with you, but it is up to you and your level of comfort. We do have overnight security, but the security guard is watching the entire park, carousel, tents, fencing, staffing booths, etc. If you choose to take your product home, you will also be allowed a loading window of 11am-12pm and 7pm-8pm on both Fridays and Saturdays.
jingle bell run 12/8
Load-in will work a bit differently on this date due to the Jingle Bell Run that is happening downtown. The best time for vendors to load in will be from 5:00-7:00 a.m. on this date. The best place for vendors to park and unload will be between 4th and 5th Ave on Pike Street in the few loading zone and parking spaces that are available.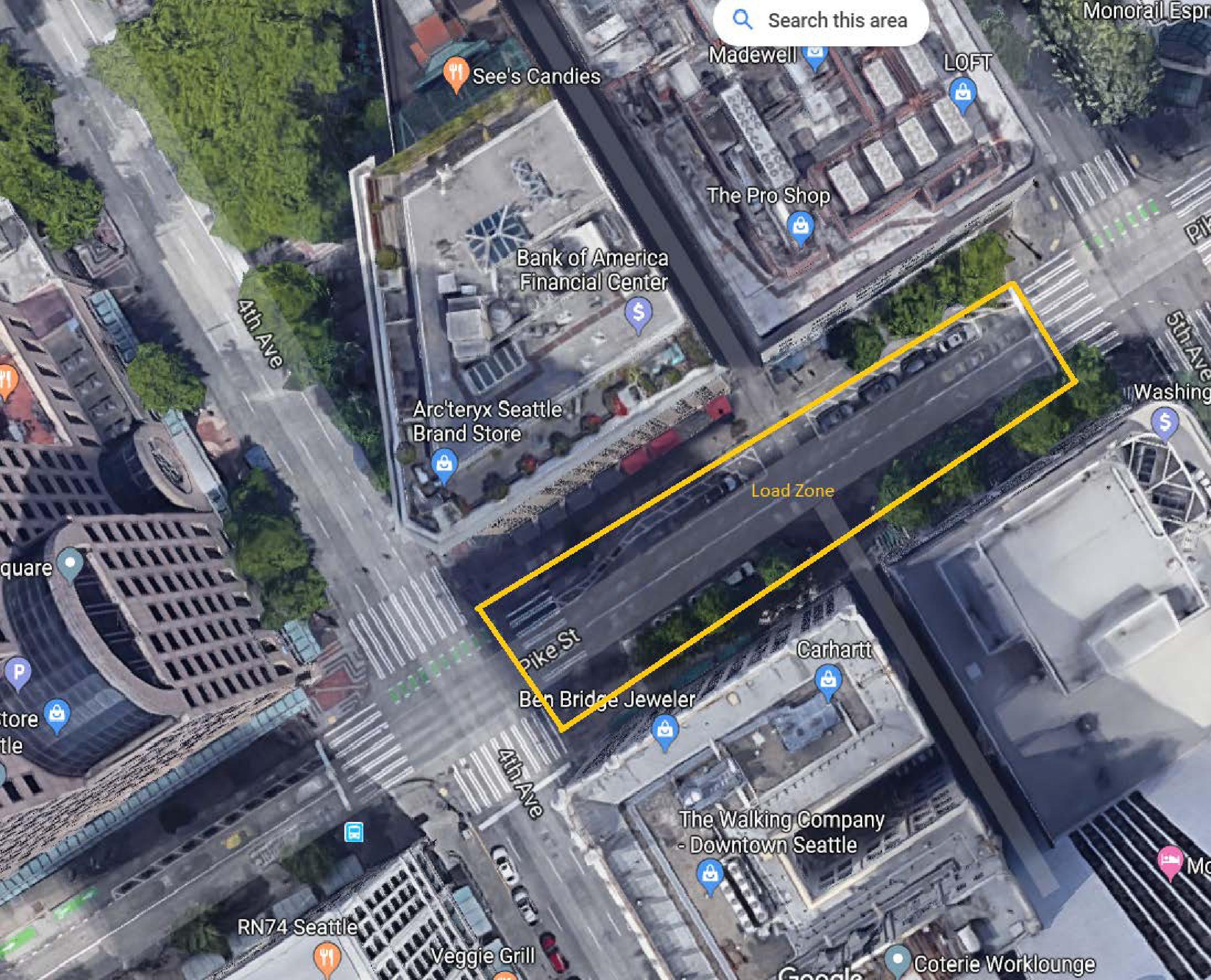 If you are running late you will not be let through the closed streets and will have to carry your supplies to your tent from another location.
The Park Ambassador arrives in the park at 8 a.m. The tents will be ziptied closed, but you are welcome to cut the ties and begin setting up. The DSA will supply zipties inside of all of the tents so that you can close up your tents if you decide to leave the park before the market fully opens.
marketing
Here's a list of all the places that the Holiday Market at Westlake Park will be advertised over the holiday season:

Persistent signage at Westlake Park
Inclusion in holiday flyer handed out at both Westlake Park and Occidental Square (among other various locations)
Inclusion in a wide variety of city-wide calendar listings
Included in all carousel announcements
Logo placement on DSA holiday landing page
Mentions on DSA Facebook, Twitter and Instagram all season long
Individual Facebook event pages for each weekend market
Mention in two media advisories
Presence in advertising running on light rail and King County Metro
Mention in WARM 106.9 e-newsletter
Inclusion in WARM 106.9 radio commercials when time allows
miscellaneous
To reiterate one last point, the UCU team is very small, and we have many other events happening this time of year. Because the DSA (Downtown Seattle Association) are the ones responsible for any decision-making for this show, they will be your point of contact during the show for booth logistics and operations.
Here are the social media images you can use to promote the show. Be sure to link to the Facebook event using the URLs at the top of the page!