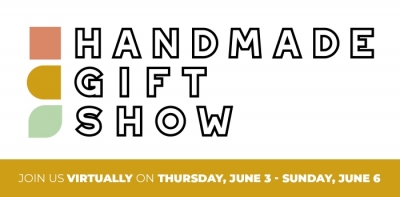 the handmade gift show will be entirely virtual this year!
***PLEASE NOTE: This event is ONLY open to wholesale buyers and shop owners. Please only register for this event if you will be attending as the representative of a business interested in establishing wholesale relationships with our vendors.***
UCU is Seattle's largest indie craft show, hosting over 150 independent designers, artists, crafters and makers at our biannual shows. Our wholesale events have been a big hit with buyers in and around the Pacific Northwest, as it offers a dedicated shopping experience so you don't have to fight through the crowds to have a conversation with our vendors.
For the past five years, we have offered a one-day wholesale event in conjunction with our annual Summer Show. We have seen this event grow more and more successful over the years, with great feedback from both our vendors and buyers alike.
Historically, the Seattle Gift Show has filled a need for buyers who want to shop in person after the holiday season is over, to replenish their stock and plan ahead for the following seasons. As of 2020, the Seattle Gift Show is no longer taking place in Seattle, and the Handmade Gift Show is here to fill that void, while also focusing specifically on the handmade community and giving buyers an opportunity to connect directly with them.
We urge you to register as soon as you can, so you'll be kept in the loop as the event approaches!
VENDING INFORMATION
Dates: Thursday, June 3rd – Sunday, June 6th
Time: 9:00 a.m. – 5:00 p.m. PST Each Day
Location: Online! (Access instructions provided upon buyer registration)
Booth Fee: $275
Please note: This is a WHOLESALE show, not open to the public. Your shoppers will be retail buyers and shop owners, intending to place wholesale orders with you.
As a vendor, you'll have your own dedicated page on our site that will act as your "booth." This is where you'll be able to highlight your products, make your catalogue and line sheets available if you choose, and give the buyers an idea of what your brand is about. There will be a scheduling tool that allows buyers to make an appointment with you, so you can have some uninterrupted time together to discuss your product and their orders.
We will also be acting as virtual match-makers to help set up appointments for buyers who have a general sense of what they're looking for, but need suggestions if they don't have their eye on specific vendors. We hope this will be a great way to make new connections and build relationships between vendors and shops, even once pandemic life is over!
Vendors were friendly, positive and passionate. They often had great stories to tell regarding how they got their ideas. Your vendors made me want to support independent creators even more than I already do!
THANK YOU TO OUR GENEROUS SPONSORS!