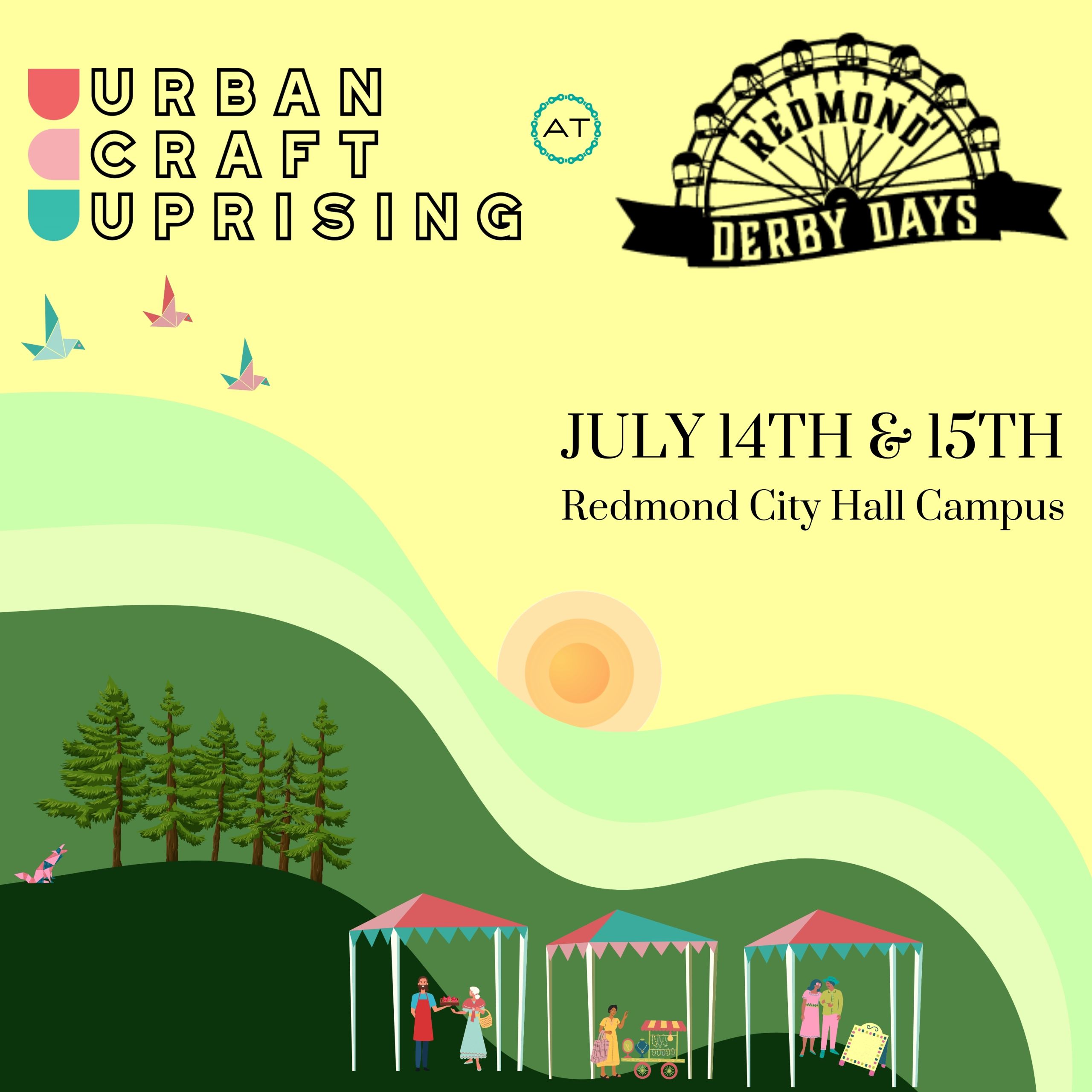 friday, July 14th & saturday, july 15th

redmond city hall campus
friday: 4pm-9pm
saturday: 10am-9pm

Derby Days is Redmond's historic town festival that began in 1940 as a parade and bike derby. Derby Days features the longest running community bike race in the US! This year's Derby Days will include main stage entertainment, a kids' stage and kids' zone, bike races and bike rodeo, a grand parade and kids' parade, a carnival with rides, a beer and wine garden, food, and more! 2022 saw over 35k people in attendance and we expect similar attendance in 2023.
Our Urban Craft Market will feature 50+ handmade vendors, as well as 10+ food trucks and booths!
VENDING INFORMATION
Dates: Friday & Saturday, July 14th & 15th
Vending Time: 4pm-9pm Friday; 10am-9pm Saturday
Load-In: 2pm-4pm on Friday
Load-Out: 9pm-11pm on Saturday
Craft Booth Fee: $225
Food Booth/Food Truck Fee: $200 OR 10% of sales
No electricity is provided.
This is an OUTDOOR show.
Booth Size: 10′ x 10′ raw space
Tent weights (minimum 30 lbs per leg) are required for ALL outdoor shows
Overnight security will be provided
Good crowds. People ready to purchase. Thanks again from putting us next to the charging tent and allowing us to tap into the power. That really makes for a smooth show on our end.
VENDOR APPLICATIONS ARE OPEN UNTIL may 15tH
AFTER THAT DATE YOU WILL ONLY RECEIVE A NOTIFICATION IF ACCEPTED OFF THE WAITLIST

jULY 14TH & 15TH

4pm-9pm friday; 10am-9pm saturday
redmond city hall campus