recent shows' vendor galleries

Wanting to find a vendor you saw at one of our recent shows? You can still peruse the vendor galleries here, and shop with all our wonderful makers on their own websites and Etsy shops.
What is Urban Craft Uprising?
Urban Craft Uprising is the preeminent indie maker event in the PNW. We aim to build local craft events that not only help makers build their business but we develop  events that inspire others to create. We also work with clients (such as Amazon) and the City of Redmond to produce markets and community events for the public, such as Plant Camp, and the Urban Craft Market at Derby Days.
Urban Craft Uprising is a biannual show–held at either the Seattle Center Exhibition Hall, or Magnuson Park Hangar 30–with 150+ of the best indie designers, crafters and food vendors, UCU is a favorite event for craft-lovers in the Pacific Northwest!
We also organize dozens of smaller markets throughout the year in various locations around Seattle. To find out what shows are on deck for the next few months, see the events that are listed above this FAQ. You can click through any of them to find out more details, and/or to RSVP to the Facebook event.
When and where is UCU?
You can click on any of the events you see listed above to find each show's info page, where you'll find the date, time, and location for each show.
How do I get there?
The Exhibition Hall is located at 301 Mercer Street in Seattle, right next to McCaw Hall.
For all other shows, the individual event page will show the address and location of the event.
If you are able, we highly encourage you take public transit to the show.
How much does it cost to attend?
Urban Craft Uprising is FREE to the public!  We encourage a $1 donation, but this is not mandatory.
What time do I need to line up to get a swag bag?
Often the lineup for our swag bags starts as early as 8:00 a.m. each morning of the show (the earliest we've heard for the winter show was 5:00 a.m.!)  We can't say for sure when to get there to be guaranteed a spot as one of the first 100 in line, but sometime between 8:00 and 10:00 a.m. is probably a safe bet.
Is there parking?
For the Winter Show, the most convenient parking option is the Mercer Garage (Third Avenue N. & Roy Street), right across the street from the Exhibition Hall.
Parking in Seattle can be expensive, and we are aware of this. Unfortunately, we  have zero control over the rates of the parking garages, at the Seattle Center or otherwise. We encourage you to take public transit or to carpool if at all possible. Particularly during the winter show when nearby parking garages inflate their rates to take advantage of the Nutcracker attendees, parking in the garage across the street can be as expensive as $30! We wish this weren't the case, but this is absolutely out of our control, and it is the unfortunate downside of a venue that is large enough to accommodate our show, and as centrally located as the Ex Hall is.
We encourage you to take advantage of this site or this app to find the most reasonable option you can when you arrive, to carpool and split the cost with friends, or to ditch the car altogether if you're able! There are also some great and cheap parking options in South Lake Union on the weekends, which is really not too far of a walk from the Seattle Center.
Do you have a lost and found?
If you lose (or find) something while the show is going on, come check in at the UCU info booth and we can make a note of what is missing, or hang on to what you've found, and hopefully connect the item with its owner. After the show, all lost and found items stay at the Seattle Center, so please call them and ask for their central lost and found if the show has already ended.
Why are UCU shows so crowded?
Seattle LOVES UCU!  If you absolutely hate crowds, we suggest attending UCU later in the day, as the largest swarms come during the first couple hours of our doors being open (10am-1pm).  OR, register to attend our Friday Night Preview Show!  Offered in the winter only, the first 1500 fans who purchase a ticket to this event will gain exclusive access to our vendors the day before the show opens to the public.  You'll be able to shop in a relaxed, uncrowded environment, while enjoying tons of goodies from our sponsors, free raffle prizes from our favorite businesses around town, and the first shot at shopping with our vendors while their booths are fresh and fully stocked.
I've been to this show before. Will I see the same vendors if I come again?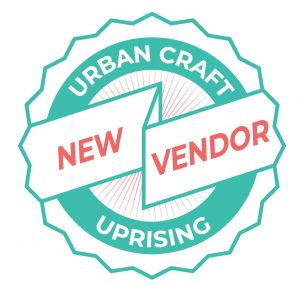 No, in fact we guarantee that at least 30% of our vendors at each show will be brand new, so you'll always see fresh faces and products, no matter how many of our shows you come to. In fact, if you grab a booth map on the way in, you'll even see the new vendors highlighted so you'll know who to look for. At the same time, we have many vendors who do return so we hope you'll be happy to see some of your old favorites as well! And, keep an eye out for this badge at the new vendors' booths!
I came hoping to see a vendor that was at your last show, but they weren't there. Why did you reject my favorite vendor?
While vending with us at one show never guarantees acceptance at the next, there are also many other reasons you might not see your favorite vendor this time around. People close their businesses, move away, have babies, have conflicting obligations during our show dates, weddings to attend–there are myriad reasons why vendors choose not to apply to any given show. Please don't assume a vendor has been rejected just because you don't see them.
That being said, in an effort to stick to our 30% new vendor promise, we unfortunately do sometimes have to say no to our favorite vendors. It's not that we don't love them, it's just that perhaps they did not submit any new work/photos, or that we need to mix it up, or that a new vendor we were really excited about beat them out of that category.
What else is not allowed?
No firearms or weapons of any kind are allowed at Urban Craft Uprising shows.
How do I become a vendor?
Applications are open to the public.  We look at various components when we jury, including quality, diversity, fans' demands, price range, etc.
As UCU has grown, our show has become more and more competitive.  We suggest reading over the Vendor FAQ fully before sending in your application. We suggest getting on our mailing list so you'll know when applications open and close; we also suggest following us on Instagram where we always announce applications opening, and where you can also see who's been with us before to get a better idea of the show if you have never attended in person.
How do I get involved?
Volunteering is a great way to meet new friends and see the ins and outs of craft show vending and managing. We are looking for volunteers to help with everything from set-up to vendor support, hosting the raffle booth, the UCU info booth, head counting at the door, and so much more. In exchange for volunteering your time, we give you a gift of thanks, we feed ya' and give you our undying gratitude! It is also a great way to connect with the creative community if you have just moved to the area and want to meet likeminded friends OR just want to meet some new crafty friends! You can volunteer for one shift or the whole weekend. If you are interested in volunteering, check out our volunteering page for more information.
I make food and want to be a part of UCU! What should I do?
You will need to fill out an application like any other vendor to be considered.  If you are accepted, your swag will be due the morning of the show, rather than beforehand like the non-food vendors, to avoid the $50 non-contribution fee.
We hosted our first food-specific, show, Gobble Up, in November of 2017. It has grown immensely in Seattle (and now in Portland, too!), held two weekends before the Thanksgiving holiday in Portland, and the weekend before Thanksgiving in Seattle. In 2021 we saw over 6,500 registrations from eager shoppers in Seattle (and over 4,000 in Portland), and have found what will hopefully be our permanent home at Magnuson Park. Find more information at gobbleupnorthwest.com, and if you're interested in vending with us, sign up for the mailing list and check "I'm also a food vendor" when prompted.
How can my business/organization sponsor Urban Craft Uprising?
We have many tiers of sponsorship and can help you find the one that will most benefit your business or organization. Please check out our Sponsorship page for more information.